Big Turnout for "Let the River Sing" Fundraiser by Skagit River Alliance
Nov. 4, 2020, midnight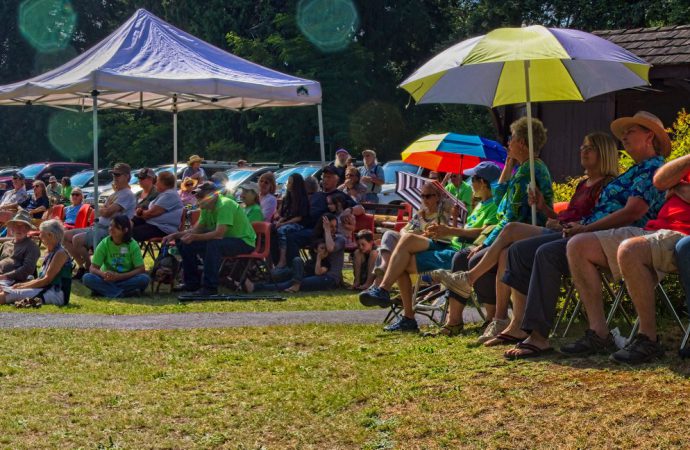 By Kathy Young, Board Member, Skagit River Alliance
Skagit River Alliance held their first Fundraiser on July 14 at Howard Miller Steelhead Park. The event raised funds to protect a large area in Marblemount, Washington from a massive open pit mining operation with a proposed 100-year lease. Skagit River Alliance's debut and introduction to the larger community was met with enthusiasm and engagement.
People came from all over Skagit County, others traveled from as far as Bellingham and Seattle to support SRA. In addition to local community participation, attendees came from local non-profits such as North Cascades Conservation Council, North Cascades Institute, Skagit Land Trust and Sierra Club Mt Baker Group. Swinomish and other Indian Tribal communities were represented as well.
The afternoon was highlighted by the generosity of two talented bands, Jumbled Pie and Jenny and the Tomcats, who donated their time and music for an appreciative and larger than expected crowd. A popular silent auction which featured dozens of expensive donated items including a kayak and still-in-the-box Surface Pro Laptop, brought in considerable cash from winning bids. SRA T-shirts and raffle tickets were sold along with delicious picnic food and beverages.
Thanks to the generosity of many, event expenses were limited so that donated dollars can be used exclusively for SRA's efforts to protect the Skagit, legal advocacy and consultation. As a 501(c)(3), SRA also accepted into new membership over 50 people.
Board Vice President Mike Young said, "The Board of Skagit River Alliance wishes to express their deepest gratitude to all those who participated, whether by donating financially and/or through their talent and hard work in order to make our kick-off fundraiser a resounding success. The deep sense of community was infectious, and we are grateful to those who share our goals to preserve and protect our Wild and Scenic Skagit River and surrounding communities."