Skagit Land Trust Requests "Threshold Determination of Significance" and a Full Environmental Impact Statement
Nov. 4, 2020, midnight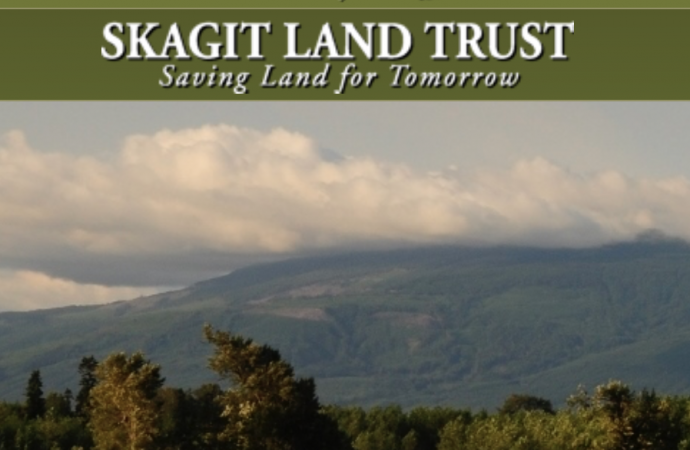 Here is Skagit Land Trust's letter to Skagit County regarding an application for a special use permit by Kiewit Infrastructure Company to develop a quarry mine near Marblemount. Skagit Land Trust joins many other major regional organizations and a near unanimous public in expressing serious misgivings and/or opposition to Kiewit's proposal.
Attention: Skagit County Planning and Development Services
1800 Continental Place Mount Vernon WA 98273
May 10 2019
RE: Marblemount Quarry (Proposed Kiewit Infrastructure Quarry Operation Near Marblemount)
To Whom It May Concern,
Thank you for extending the public comment period on the Marblemount quarry operation proposed by Kiewit Infrastructure Company.
Skagit Land Trust is writing to request that Skagit County make a threshold Determination of Significance on this project and require a full Environmental Impact Statement (EIS) to more fully evaluate impacts the Marblemount quarry might have on:
• Water and air quality in the Upper Skagit area;
• Wildlife including the numerous threatened and endangered species whose life cycles, primary food stocks, prey species and foraging areas would be influenced by the project implementation and associated activities;
• Local communities and associated tourism, recreation, conservation and resource economies;
• National, state and locally designated areas of significance including Skagit and Illabot
Creek's Wild and Scenic River Corridors; North Cascades National Park and adjacent Recreation Areas; U.S. Forest Service and National Park Service Wilderness Areas; and the North Cascades Scenic Byway.
Skagit Land Trust is a non-profit organization with over 1500 family and business members. We conserve wildlife habitat, wetlands, agricultural and forest lands, scenic open space and shorelines for the benefit of our community and as a legacy for future generations. We are a major landowner in the Upper Skagit area. Numerous conservation values on land we own or on which we hold permanent protection agreements in partnership with private landowners, could be impacted by the quarry expansion proposal.
Our request that a full environmental impact statement be done rests on these concerns:
• We have spent millions of dollars conserving and stewarding properties in the Upper Skagit for the benefit of current and future generations of people and wildlife. It is our deepest responsibility to our members and the larger community to ensure the perpetual protection of these lands' values. Therefore, it is imperative that we have a clear picture of the impact this proposal would have on our lands and their conservation values.
• The Upper Skagit is a key focus area for Skagit Land Trust because of its rich biodiversity. As part of the North Cascades Ecoregion, it contains one of the largest expanses of wilderness in the Lower 48 states. This area is significant habitat for threatened and endangered species including the recently reintroduced Pacific fisher, marbled murrelet, Canada lynx, northern spotted owl, North American wolverine, Oregon spotted frog, and gray wolf. The submitted proposal was extremely weak on addressing impacts to listed species' primary food stocks, prey species and
foraging areas in all areas that would be influenced by the project. It did not thoroughly address impacts from the project activities and implementation such as increased noise and light levels on wildlife, ecosystem disruption, impact to wildlife of increased human activity on site and via road use; and loss or degradation of wildlife corridors. An EIS should look at potential disturbance to listed species and/or their avoidance of areas, not only at the project site but in nearby locations that could be impacted by noise, dust, etc. and along the transport route which trucks carrying the quarried rock would follow.
• The Skagit Watershed is critical for the recovery of salmon and species such as Southern Resident Killer Whales that rely on salmon as a primary food source. The majority of endangered Northern Puget Sound Chinook come from the Skagit River watershed with Illabot Creek being of noted importance. Federal, state, and local governments, private citizens, and organizations have invested tens of millions of dollars to reverse the decline in salmon populations. Without a thorough EIS being undertaken, we are concerned about potential impacts to salmon, steelhead, and bull trout, and other salmonids that use the mainstem of the Skagit River and off-channel habitats downstream and adjacent to the proposed quarry. The submitted SEPA assessment did not adequately address real, short and long-term impacts for a project of this scope and scale. The area of potential effect should include impacts to downstream floodplains and channels receiving water and runoff from the project area, associated water courses, and transportation routes.
• Many community members, businesses and organizations rely on recreation, tourism and conservation activities in this area. The full impact to local communities must be studied. Hwy 20 east of Sedro-Woolley is not simply a transport route. It is the North Cascades Highway – a state designated Scenic and Recreational Highway. It is often referred to as "the Most Beautiful Mountain Highway in Washington". The Rockport Loop, which passes by the proposed quarry, is a popular part of the Mountain Loop Highway. Degrading tourism and recreation opportunities at this Gateway to the North Cascades is not an acceptable trade-off for the cited additions to the local economy which the quarry would represent. The impacts to communities and to tourists who come to this area must be fully studied. Lights, noise, traffic, and air quality could all negatively impact the unique attributes of this part of the Skagit Valley.
Finally, 100 years, the potential duration of this project, is an extremely long time. There is no methodology we know of that can adequately assess impacts to the environment, or on local communities and people, for anywhere near a century. The 100-year permit request makes all conclusions of the SEPA weak as it is hard to understand long-term and cumulative impacts from this proposal. We ask that a realistic permitting timeframe be studied. Please require rigorous Environmental Impact Statement assessments of the cumulative adverse impacts over the life of the project on: water and air quality; wildlife; local communities; their associated economies; and on National, state and locally designated areas of significance.
Thank you for this opportunity to share our concerns.
Sincerely
Molly Doran, Executive Director, Skagit Land Trust