Seattle City Light Sees Significant Adverse Environmental Effects of Proposed Quarry Mine
Nov. 4, 2020, midnight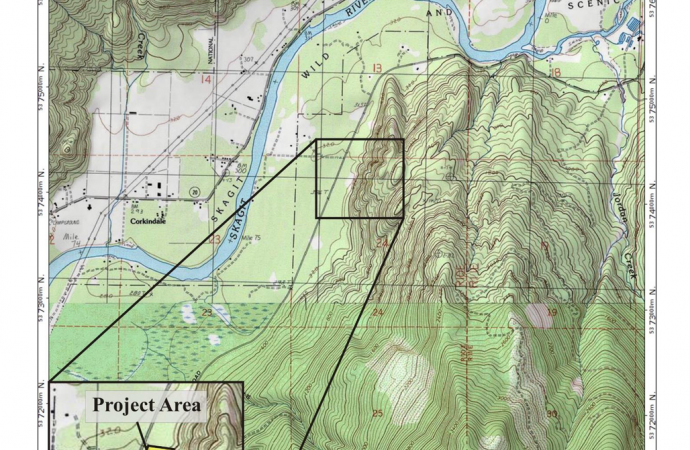 Seattle City Light has submitted a letter to Skagit County expressing serious concerns about the proposed quarry operation near Marblemount. The letter asserts that the proposed quarry mine will, "likely have a significant adverse effect to the environment and should thus require an Environmental Impact Statement (EIS)" Here is Seattle City Light's letter:
March 29, 2018
JOHN COOPER
NATURAL RESOURCE PLANNER
SKAGIT COUNTY PLANNING & DEVELOPMENT SERVICES
1800 CONTINENTAL PLACE
MOUNT VERNON, WA 98273
RE: Comments on Kiewit Infrastructure Quarry operation near Marblemount
Dear John,
Seattle City Light (City Light) appreciates the opportunity to comment on the State Environmental Policy Act (SEPA) Environmental Checklist and associated documents for the proposed Kiewit Infrastructure Quarry operation near Marblemount (project). In short, City Light contends that the current environmental documentation does not contain sufficient detail or analyses to make a threshold determination. Specific areas of concern include:
¥ Water quality impacts
¥ Impacts to threatened/endangered and other protected species
¥ Impacts to a Wild and Scenic River
¥ Increased traffic
Based on review by our subject matter experts in the areas of water quality and protected fish and wildlife species, City Light asserts that this project will likely have a significant adverse effect to the environment and should thus require an Environmental Impact Statement (EIS).
As background, the Skagit River and its tributaries near the proposed project site provide important habitat for all native salmonid species and host the largest run of Puget Sound Chinook salmon. City Light has made significant investments in salmon recovery and wildlife habitat protection in the Skagit River watershed and owns multiple parcels of conservation lands adjacent to the project parcels. In total, City Light parcels share 8,800 ft of common border with the project parcels.
First, the impacts to water quality in areas downslope of the site and along the haul route on Rockport­ Cascade Road need to be analyzed more completely, including a more thorough stormwater analysis, given the potential for the development to alter hydrology and increase fugitive debris, dust, and pollutants over a 100-year period. The quarry and "undersized stockpiled area" could lead to changes in hydrology, resulting in water quality impacts to streams off site. Of concern are the potential long­ term impacts to O' Brien Slough (P110610, P110611, P110612, and P45530) which contains refuge habitat for Coho salmon and rearing habitat for Chinook salmon.
Second, impacts to protected species need further evaluation. In addition to the O'Brien Slough parcels to the west of the project site, City Light owns contiguous parcels north and south of the proposed project. These properties are managed to conserve wetland and riparian habitat and promote development of mature conifer forests to support a wide variety of species, including the federally listed northern spotted owl and marbled murrelet. For example, City Light's Parcel P45307 contains a stand of mature coniferous trees within 1/4 -mile of the proposed quarry that may be suitable habitat for these species but no assessment of spotted owl or marbled murrelet use has been completed. The project's effects to these two species should be evaluated by determining presence of suitable habitat and species use within the zone where noise levels will be elevated above ambient levels. Based upon our initial analysis, the "Action Area" should include all project-related noise inside and outside the project footprint, including blasting, heavy equipment operation, and truck traffic along Rockport-Cascade Road.
Other concerns regarding the project include the following:
¥ Blasting and other noise impacts to bald eagle winter communal roosts documented in O'Brien Creek and Illabot Creek watersheds;
¥ Impacts to peregrine falcons, which have been anecdotally reported to occur in the immediate area;
¥ Increased truck traffic, which may result in a higher number of vehicle-wildlife collisions, killing or injuring animals such as deer, elk and federally-listed wolves which are known to be present in the general area; and
¥ Weeds resulting from ground disturbance and topsoil storage, which can then spread onto City Light's adjacent conservation lands as well as along the Skagit River.
Based upon the above, City Light urges Skagit County to make a threshold Determination of Significance and require an EIS to further evaluate all environmental impacts of the project. Further, we believe that the optional DNS process under WAC 197-11-355 should not have been used in this instance since there was not a reasonable basis to determine that a significant adverse environmental impact was not likely.
Again, we appreciate the opportunity to provide comments and look forward to working with the County.
Sincerely,
Lynn Best
Chief Environmental Officer
Seattle City Light