Skagit River System Cooperative's Letter Requesting Extension of Public Comment Period and Environmental Impact Statement
Nov. 4, 2020, midnight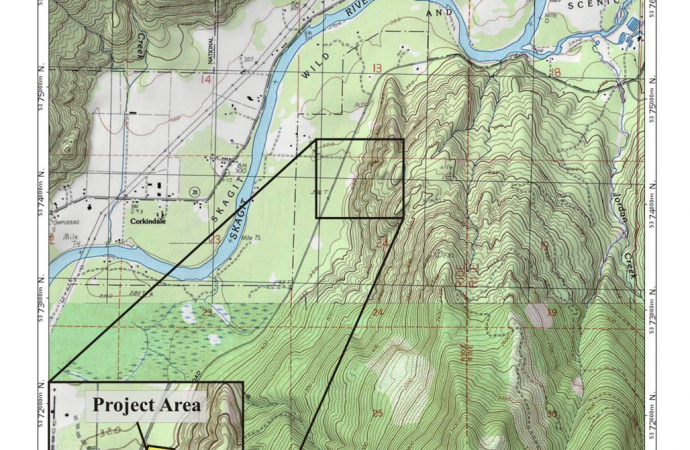 Many individuals and organizations concerned about a proposed quarry mine near Marblemount are formally requesting extension of the public comment period relative to the special use permit application by Kiewit Infrastructure Company of Vancouver, WA. And, many are asking that an Environmental Impact Statement be required. Here is the letter by Skagit River System Cooperative to Mr. John Cooper of Skagit County Planning and Development Services:
March 27th, 2019
Mr John Cooper:
Re: Kiewit quarry in Marblemount
Dear John:
The Skagit River System Cooperative (SRSC) has concerns with the proposed quarry expansion proposed by Kiewit Infrastructure for an existing quarry near Marblemount (PL19-0032, PL19-0033, PL19-0047, PL19-0070). As you are aware, SRSC represents the fisheries and natural resources interests of the Swinomish Indian Tribal Community and Sauk-Suiattle Indian Tribe, both of which are federally recognized tribes and signatories to the Point Elliott Treaty. The natural habitats surrounding the Kiewit quarry site are important resources that deserve protection, however we feel that the quarry expansion project will have some unnecessary and unmitigated adverse impacts to those resources, which we seek with this letter to avoid and minimize.
First of all, we are requesting an extension of the public comment period under SEPA. Given the large number of documents to review, the length and complexity of those reports, and the unavailability of some documents until late in the review period, SRSC has not been able to complete more than a superficial review in the time allotted.
Secondly, SRSC feels that a Determination of Significance is warranted under WAC 197-11-330 and that an Environmental Impact Statement should be required. This proposal will have a significant impact on the local environment, particularly due to the local context. The absolute quantitative effects (the amount of rock removed, the number of truck trips, etc.) would be large regardless of context. But whereas a similar development in an industrialized region might be considered less disruptive, the introduction of such immense changes in activity, noise, and the landscape itself will be highly significant in what is now a tranquil corner in a remote part of the County. And this change in activity may last for decades. Several aspects of this project—noise, traffic, visuals, blasting, clearing, etc. — may not individually trigger an EIS, but combined they constitute a significant environmental impact that should be examined together in an EIS.
As the County is aware, SRSC's primary interest is in fisheries and fish habitat protection. Although we understand that the streams that traverse the site are not now fish
Fisheries and Environmental Services for the Sauk-Suiattle and Swinomish Indian Tribes
bearing, we are not blind to the possibility that changes in drainage patterns resulting from re-sculping the quarry landscape could concentrate and direct flow in the future. In anticipation of that outcome we think it prudent, and in the context of SEPA it would avoid or minimize potential environmental impacts, if the road proposed for the site did not include two unnecessary stream crossings (on "Watercourse B" in the critical areas assessment, Figure 4). If the "switchback" in the proposed road were moved further north then the two stream crossings and associated riparian impacts could be completely avoided. Culvert crossings on steep, forest roads concentrate flow, provide potential blockages, require regular maintenance, and are disproportionately responsible for debris flows. Debris flows are catastrophic for stream ecosystems, whether those streams are fish bearing or not. We strongly encourage the mitigative step of re-aligning the quarry logging and access road to avoid the mapped streams entirely, instead of putting the switchback on the south side of the stream.
In summary, the Kiewit Marblemount quarry will have several impacts which are not the direct concern of SRSC (wildlife, cultural resources) but may be concerns for the tribes we represent (and for which those member tribes will submit their own letters). We believe that our principal fisheries concern can be avoided or mitigated. Nevertheless, we think that the SEPA comment period should be extended so that we and others can make a more thorough examination of the potential impacts, and that ultimately those impacts should be examined together and cumulatively in an EIS.
As always, SRSC appreciates the opportunity to comment on this proposal, and we look forward continuing our interaction with the County on this and other matters. If you have any questions about our comments, or if there is anything that we can provide, please don't hesitate to contact me at (360) 391-4194 or [email protected]
Sincerely,
Tim Hyatt
Skagit River System Cooperative