Strong Opposition Rising Against Marblemount Quarry Project Application
Nov. 4, 2020, midnight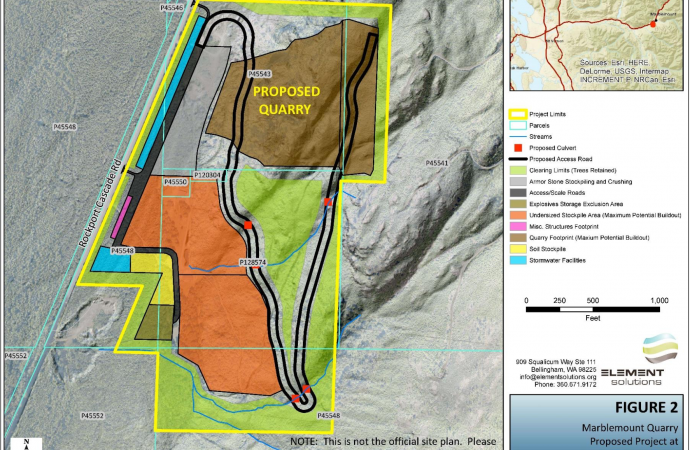 Strong opposition is rising against an application by Kiewit Infrastructure Company of Vancouver, Washington, for a "Mining Special Use Permit" to leverage an leverage an old gravel pit near Marblemount into a massive blast-oriented quarry mine. Kiewit is apparently trying to source jetty zone and wants to do so in the immediate vicinity of many tranquil rural homes in our peaceful valley community. The development is regarded as completely incompatible with our tourist oriented area.
Kiewit is seeking permission to remove about 3.8 million cubic yards of stone. According to the application's traffic study, the project anticipates, "260 daily trips, split 130 in and 130 out, with: 100 truck trips related to jetty stone hauling, split 50 in and 50 out, 50 truck trips related to non-jetty stone hauling, split 25 in and 25 out, 70 total employee trips, split 35 in and 35 out, and 40 service, vendor and delivery vehicle trips, split 20 in and 20 out."
This is a huge level of heavy traffic which will affect people and communities all along the Skagit Valley.
Just to get going, the operation will require the removal of 2.7 million board feet of timber from 90 acres of land, plus the construction of a one mile long gravel road to the top of quarry area slope. Construction of the gravel road will require excavation of about 235,200 cubic yards and placement of about 550,400 cubic yards of soil and rock.
All in all, this is a massive project. The applicant is describing it as an "expansion," but it's an entirely new venture that envisions taking the mountain down. They actually want to blow up a mountain right near dozens of homes and in close proximity to the fragile Skagit River.
The existing quarry is entirely depleted and inactive. This permit is completely new in quarrying location, access, elevation, type of material, quarrying logistics and methods, scale of operation, overall footprint, proximity of residences, and impacts to surrounding areas. Previous rock removal activity involved no more than taking loose rock from the base of a slope in small batches with no more than ten truck loads a day.
This outrageous venture envisions blasting and massive removals of stone from within the mountain. The noise and dust and damage to the environment is entirely incompatible with the tranquil nature of the rural residential community surrounding the area.
Initial handling of the special permit application has been quick and dirty, with insufficient time and effort being given to involving citizens and interests who share concern for the well-being of the lives of the people living in the area, the wildlife of the area and the environment.
There should be an extension of the public comment period under the State Environmental Policy Act due to the quantity of documents to review and the limited time provided. Citizens were not provided with timely information or sufficient time or opportunity to participate in considering this permit application.
We're asking for a Determination of Significance under WAC197-11-330 and to require an Environmental Impact Statement due to the significant effect on the local environment, especially considering the quiet, remote nature of the surrounding community and environment. This would require much more extensive review and public comment before the project could proceed. Skagit County must make a serious effort to promote citizen discussion regarding the application and its merits.