Vancouver, WA, Company Trying to Leverage Old Gravel Pit Permit to Blow Up Mountain
Nov. 4, 2020, midnight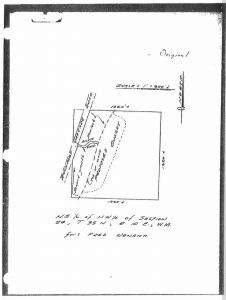 A Vancouver, WA, company, Kiewit Infrastructure Company, is trying to come to Marblemount and launch a massive quarry mining venture which aims to blow up a mountain to extract rock. The venture would look nothing like the small gravel pit business which used to operate here. It appears that Kiewit Infrastructure Company is trying to mislead everyone by referring to the venture as an "expansion."
Marblemount resident Jose Vila investigated county records regarding the old business. Here is what Jose is sharing with us:
FROM JOSE VILA, MARBLEMOUNT
"Here are two pages from the 1976 permit application for talus rock crushing at ground level only and on a small footprint. Intermittent single truck loads were estimated at a maximum of 5. The county would have shut them down if they ever sent out 10 in one day. The permit file includes several written noise and other complaints that the county had to follow up on and address with the operator.
This is the existing use that Kiewit is attempting to leverage for approval to blow up a mountain that looks over the Skagit, Cascade, and Illabot river valleys… madness!"