Comment From Kate and Larry Stram
Nov. 13, 2020, 9:14 p.m.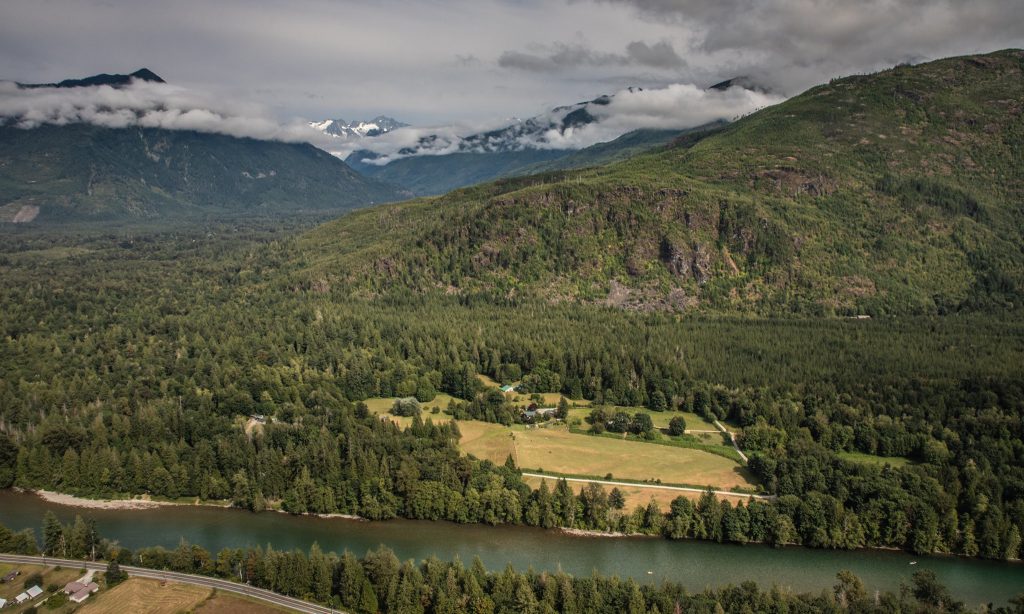 To the Washington State Department of Natural Resources
State Environmental Protection Agency
Comment on Surface Mining Reclamation Permit #70-013279
Cascade Big Bear Mine Application, File No. 20-092802
To Whom it May Concern:
We are residents in the neighborhood where this mine is located, living just over a half mile from the site. This mine has been inactive for most of the 11 years we have lived here. Since there was no notification process of area residents, we are fortunate we learned of it in time to comment in opposition to the SEPA Finding of NonSignificance.
1.The applications clearly states that Cascade Big Bear Mine is an existing mine operating as a conditional use permit and operated under a small miner's exclusion for mines under 3 acres. However the current application is for an operation of 9.6 acres which is not currently permitted by the Skagit County Planning Department. To our knowledge there is no pending application to change the permit with Skagit County. This is a significant oversight.
2.The application acknowledges that "geologically hazardous areas have been mine site coincident" with the steep rock cliffs. DNR has noted in past that this cliff side and mountain are "jointed and fractured". In 2019 an application by Kiewit Infrastructure noted these geological concerns: 1. Seismic Hazard Critical, 2. Landslide Hazard Critical, and 3. Erosion Hazard Critical. This mine lies on the single active cascade seismological fault. None of these issues were addressed in the applicant's Geological Conditions Analysis. Further analysis addressing these issues should be required.
3.In 2019 a geologist informed me that the Shuksan Greenschist rock in this mountain, which will be mined according to this application, is known to contain asbestos. Yet the DNR failed to require a mineral analysis of the rock to be mined. This rock will be crushed, possibly blasted, and dust will be released into the air. People in this community, adults and children, including both of us, suffer from asthma and other respiratory illnesses and our health would be negatively impacted even with the proposed dust abatement procedures. This mineral analysis for asbestos needs to be completed before approving this mine application.
4.The mining operation is described as a top down progression using a grappling crane and. vertical cuts to remove boulders from the talus deposit. The application states the talus apron is about 300' above the base of the cliff. We presume that this top down operation will start at least at that height. The noise analysis appears to be incomplete. There is no assessment of the cumulative noise effect of multiple pieces of equipment, vehicles and mining activities operating simultaneously. It appears that noise at the levels indicated around 80-85 decibels will be continuous every weekday the mine is open beginning at 7 am. We were living here when some rock crushing occurred at this mine and the noise was intense, in spite of the buffer of forest between our property and the mine. We are retired and are home most of the time. This level of constant noise 11 hours a day would be very stressful and hazardous to our health and well being.
There is an acknowledgement that individual activities and pieces of equipment would exceed the allowable level under Skagit County regulations. The proposed mitigation would be a 15 foot noise berm along the northerly boundary. There is no documentation that demonstrates that such a berm would lower the noise to acceptable levels when that noise is occurring almost 300 feet above the 15 foot level of the berm. Given the proximity to residential property such an oversight must be remedied.
5.There is no traffic study or realistic consideration of the impact of the mining activity on traffic, Rockport Cascade Road condition/repairs, or area recreation. It would not be possible to have a relevant traffic study in November or winter since this is the quietest time of year in the Skagit River valley. The peak of mining operation is described as spring and summer which are also, along with early autumn, the peak recreational use times. The area has many hiking trails, campgrounds, fishing in river and streams, and Rockport Cascade Road is a highly popular bicycling road. The increased wear and tear on our local road will be borne by the County and local residents.
6.The plan to utilize our very limited volunteer emergency services (EMT and Fire Departments at Rockport and Marblemount) could put strain on our emergency services at times of highest use. Greater car, truck, motorcycle and bicycle traffic in spring, summer and autumn, more campers and hikers in the surrounding area result in higher accident rates, and in late summer and autumn more wildfire risk; generally this means the emergency services are stretched during the peak mining months. How would this operation accommodate or support the local community to assure that residents' and visitors' needs are met when they place demand for services.
In closing, we are asking the DNR to 1. Require further study and documentation as indicated in this letter, as well as 2. Require an Environmental Impact Statement, and 3. Give consideration that the mine as proposed in the application does not currently fall under the existing County Planning Department Permit.
We believe the DNR should withdraw their Determination of Non Significance until further information and study can be considered,
Thank you.
Kate and Lawrence Stram