Urgent! New Mining Proposed near Marblemount
Nov. 4, 2020, midnight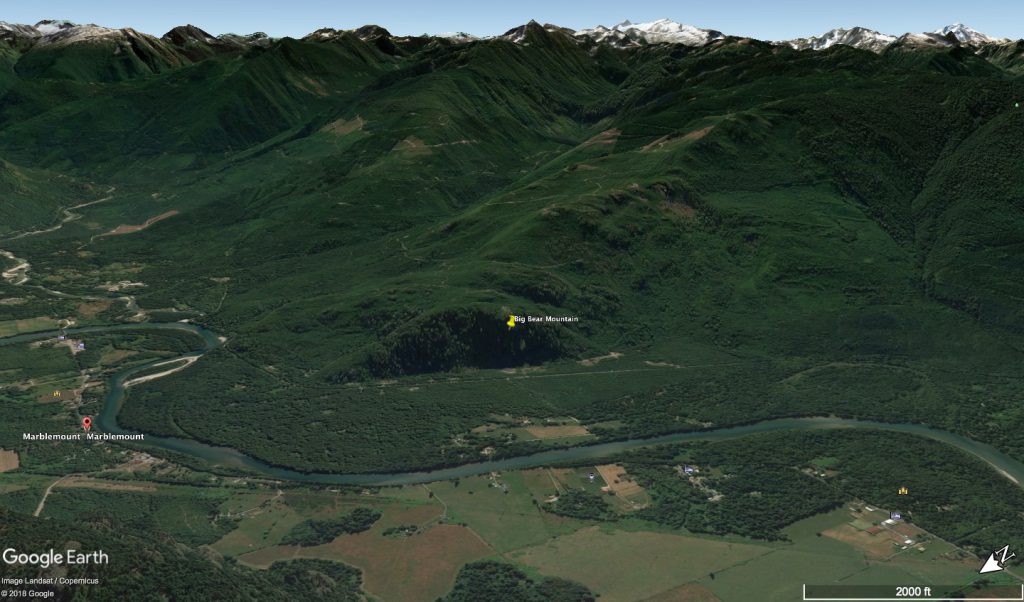 New Mining Proposed near Marblemount (at the same location of the formerly proposed Kiewit operation).
Cascade Big Bear Mine Permit Application Number 70-013279
Cunningham Crushing, Inc. applied for a surface mining permit from the WA Department of Natural Resources (DNR) to mine the same property on Rockport Cascade Road that was applied for last year by Kiewit Infrastructure through Skagit County Planning and Development. This new proposal still leaves us with significant concerns.
This proposal is to remove the entire 311-foot high talus formation of boulders with a big crane and other unspecified heavy mining equipment below the vertical 800 foot face of Big Bear Mountain. Large boulders of this material would be split with explosives or hydraulics into smaller pieces and be trucked out in "standard haul trucks'. The proposal estimates the amount of material in this large talus formation to be 1.2 million tons, that's 120,000 haul trucks loaded with 20,000 pounds of rock, every weekday, for twenty+ years!
This potential first phase reopening of a surface mine on this site has been repeatedly denied by DNR over the past twenty years for safety reasons due to the "jointed and fractured" condition of the rock wall. Despite the significant potential hazard of further talus removal as identified by DNR, and despite many of the same significant impacts as last year's proposal which led Skagit County to determine that a full study of impacts (EIS) was needed, DNR has already made a Determination of Non-Significance (DNS). Concerned parties were successful in re-opening the comment period.
Please note the short turnaround time for submitting comments:
November 12, 2020 by 4:30 pm.
What can you do?
Email the following address to get on DNR's notification list about this project

[email protected]

and reference the project or surface mining permit by name "Cascade Big Bear Mine" and permit number 70-013279 in your email.
Read the application materials which can be found under Surface Mining Reclamation Permit #70-013279 at the bottom of this web page: https://www.dnr.wa.gov/mineral-resources
Submit Comments via:
o Email: [email protected]
o Snail Mail:
DEPARTMENT OF NATURAL RESOURCES ENVIRONMENTAL & LEGAL AFFAIRS – SEPA CENTER
PO BOX 47015
OLYMPIA, WA 98504-7015
o Mention the project by name and number - Cascade Big Bear Mine and #70-013279.
Suggested Comment Points
There is potential for asbestos from the Shuksan greenschist to be released as dust during splitting, blasting, and crushing. Air and water borne asbestos poses safety risks to workers, neighbors and others on the transport route. An investigation of the site for asbestos has never been done. Insist on a thorough and scientifically valid sampling and analysis of the material proposed for disturbance and removal. DNR acknowledges asbestos found in the rock would stop the project from moving forward. Answering this question is critical to the health and safety of workers and local residents! The nearest house is ~600 feet away!
Potential impacts should require study that is appropriate for the scope of the project – i.e., an Environmental Impact Statement (EIS) to evaluate potential impacts to people, plants, fish and wildlife, water, etc.
The EIS should evaluate impacts to other resources like roads & the associated increase in congestion and reduction in traffic safety (for example at the intersection of Hwy 530 and Hwy 20);
Other impacts to surrounding neighbors and community need to be considered such as noise, dust, and vibration.
Impacts from transport and detrimental impacts to the local economy need to be considered.
Impacts to Indian tribes and culturally important sites need to be considered.
SRA is concerned about DNR leading a process for a proposal that has so many potential community-related effects. Skagit County could co-lead the process with them. DNR is not accustomed to considering private landowner or community impacts or potentially detrimental impacts to the local economy (e.g., from loss of ecotourism, for example).
We have serious concerns that the 1976 permit issued by Skagit County is no longer relevant for the current operating conditions.
The SEPA checklist is brief and lacks documentation on studies which support statements made in the application and SEPA checklist.
The application is missing important details for evaluating impacts and there is no traffic study, no pollution study, no wildlife studies, no asbestos mineral study, and an inadequate noise study and geotechnical study.
Previous proposals to mine this talus were denied by DNR because of concern for unstable rock in the cliffs above. This previous requirement for a geotechnical study appears to have been disregarded and DNR has provided no explanation.
There is a large discrepancy in the volume of rock material proposed to be removed (1.2 million tons) and the ability for an operation with 6 truck loads out a day, 5 days a week for 20 years to remove that much material.