DNR is Incorrect and Unresponsive: A letter to Hillary Franz
June 21, 2021, 7:22 p.m.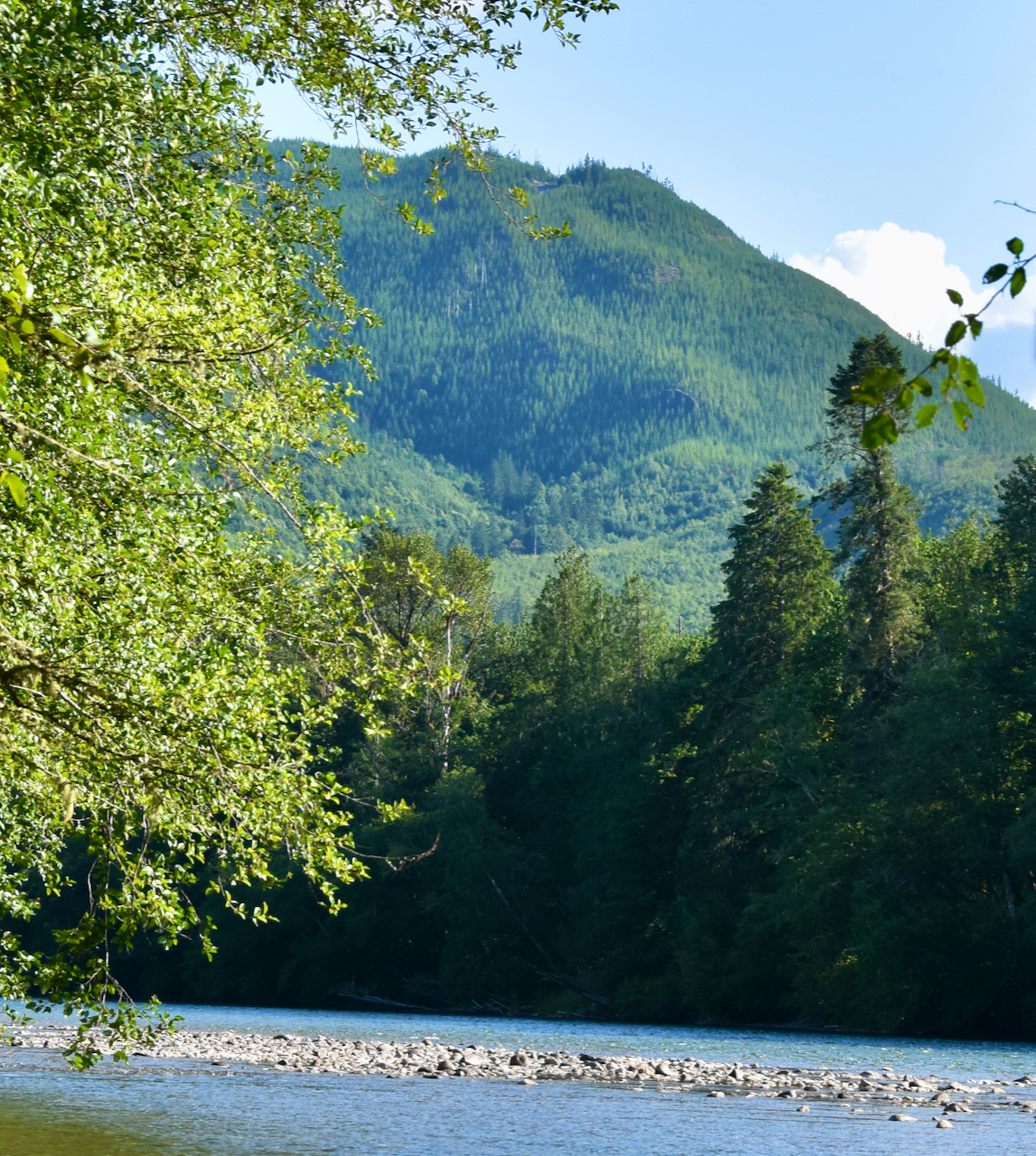 Stakeholders in Skagit County have again thwarted efforts to permit the hazardous mining of Big Bear Mountain. Department of Natural Resources (DNR) has withdrawn its Determination of Non-significance because the absestos threat has not been properly assessed, and this decision cannot be appealed. The letter is below.
We must remain vigilant to counter any future steps by the applicant and their corporate backers.
"Never doubt that a small group of thoughtful, committed, citizens can change the world. Indeed, it is the only thing that ever has." -- Margaret Mead
---Electronic Transmittal--
June 21, 2021
Ms. Hilary Franz, Commissioner of Public Lands
Washington Department of Natural Resources, MS 47000,
Olympia, WA 98504
Dear Ms. Franz,

As an elected official and leader at DNR, I respectfully ask that you review my email below and attached May 24, 2021 letter regarding a mining proposal in Skagit County, Washington. While at face value the proposal may appear to be a small project of little consequence in the overall scope of your work, I want to point out the serious inconsistency within DNR in implementing your legal obligations as a lead agency under the State Environmental Policy Act (SEPA). I had hoped to get clarification on several legitimate concerns through the DNR Washington Geological Survey department, yet I have received no reply whatsoever. My questions to you are:
1) Why does DNR consider themselves SEPA lead for mining proposals if they do not consider direct, indirect and cumulative impacts of the operations proposed that have not yet occurred, and instead focus narrowly on reclamation?
2) Why does it appear that DNR does not provide adequate consultation with federally-recognized tribes or provide enough information to them to review in the context of treaty rights and cultural activities, sites, and concerns?
3) Why does it appear DNR does not consider serious threats to public and environmental health like geologically unstable critical areas and potential for asbestos contamination from proposed activity on a mining site with demonstrated asbestos content?
4) Why does it appear DNR does not evaluate why a prior mining proposal at the same locale was determined significant (DS) by Skagit County and would require an environmental impact statement (EIS) in their own process of determining whether the new proposal is significant or non-significant (i.e., DS or DNS)? To be clear, an EIS was required but the former applicant withdrew their request for a permit and an EIS has never been conducted.
5) Why does the Washington Geological Survey (a department of DNR) not answer their email or follow through on the public outreach requirements of SEPA?

My letter is just a tip of the iceberg for the large volume of comments DNR's geologists have received on this particular mining proposal from agencies, non-profit environmental groups, individual citizens and the Upper Skagit, and Sauk-Suiattle Tribes, and Swinomish Indian Tribal Community. These federally-recognized tribes have treaty rights for the area in which the project is proposed. I urge you to take a close look at DNR's internal report card when it comes to performing an adequate SEPA process. I have serious concerns that your Geological Survey department has an unrealistically narrow view of SEPA responsibilities when issuing permits for mining projects with extensive potential impacts by focusing only on the action of "reclamation" or restoring land after it has already been mined. SEPA review should evaluate the direct, indirect, and cumulative impacts of a project, including the mining itself and the reclamation portion once the extraction has occurred. I see from DNR's website that "Mine operations, which are all mine-related activities except reclamation, are specifically regulated by local governments or state and federal agencies exclusive of DNR." Because mining operations are not reviewed or regulated by the Department of Natural Resources (DNR), environmental impact reviews from mining operations cannot be handled by DNR. Doing a SEPA review and determination on the reclamation activity first is premature. Tell me, how can a proposal focused primarily on extracting jetty stone and other merchantable stone be considered appropriate for a reclamation permit?

The SEPA evaluation begins with a review of proposed activities before a permit is issued and should therefore consider potential of all stages of the mining activity to adversely impact environmental as well as cultural resources such as archaeological sites and traditional cultural places. If DNR cannot or will not fulfill a proper SEPA process in these cases, either mining activity like this should not be considered reclamation until all other stages of SEPA review are completed by the appropriate local government or state or federal agency, or DNR should not be the lead agency for SEPA at all.

Doing business, as DNR has usually done for surface mining reclamation permits, has not included an adequate level of review or documentation to address concerns of affected Indian Tribes (those with a stated interest in, and historical cultural context to the project's location). I urge you to seek guidance from the Department of Archaeology and Historic Preservation regarding an appropriate level of consultation with tribes and consideration of resources of archaeological and traditional cultural value. Governor's executive order 21-02, which DNR's archaeologists are familiar with and implementing on other projects, provides the type of guidance a State agency should also be following off State lands to consistently manage risk. Please take a close look at this internally as the current approach with the mining reclamation permits appears to me to be a reflection of structural racism built into the DNR process. The Upper Skagit Tribe, for example, has already given both Skagit County and the DNR notice that they consider an environmental impact statement (EIS) required for this location, which should signal to DNR that a determination of non-significance is completely inappropriate. I support this position and feel a determination of significance (DS) is fitting in this instance due to the complexity of issues and potential direct, indirect and cumulative impacts. Instead of requiring that the applicant provide an environmental analysis that fits the scope of potential effects to resources that could be destroyed in the process of rock removal, I see the DNR relying on desktop studies and incomplete surveys and, in the case of a critical area due to a geologic hazard, ignoring the evidence that State geologists have already identified as important - there is an identified safety risk. DNR's claim to be the lead agency, and narrowly focus on only the reclamation portion of the work is a cop out and reflects badly on DNR as a whole.

This potential for actinolite mineral (asbestos) in a fibrous form which could spread on and off site through dust and water runoff is another serious concern for this particular quarry site that has not been addressed. As I am sure you are aware, asbestos can cause health problems and mortality for humans, animals, fish, and spread off mining sites through dust and water runoff. A recent reconnaissance-level geologic survey of the site was conducted by a certified geologist at GRI on behalf of mining company J.E. McAmis to assess potential for Shuksan greenschist on site (memo attached). This included desktop analysis, petrographic analysis, and bulk asbestos fiber analysis on a single rock sample. Several conclusions from this brief survey are of interest:

1) In a reconnaissance survey using a rock hammer, a geologist for GRI identified several areas that appear to be greenschist. A sample of greenschist from the site (examined through petrographic analysis by Dominion consulting, 2020) included 23.5% actinolite. As stated in the report, "Actinolite is a light to dark green; grayish green to black metamorphic mineral that can occur in asbestiform habit (i.e., one of the known forms of asbestos). We anticipate the rock of the quarry talus is likely to be partially composed of the actinolite mineral (GRI 2021:4)." However, no analysis for asbestos fiber was completed on any of the greenschist which was identified in the site survey. So the potential is high but it was not tested.

2) A bulk asbestos fiber analysis was conducted on another single rock sample collected by someone else (i.e., one rock from the talus of the site), which was described to be quite different in appearance from the greenschist indicated above. As stated in the report, "this sample was described as a gray, brittle material composed of binder/filler and mineral grains. The analysis indicated that asbestos and other fibrous materials were not detected in the sample (GRI 2021:2-3). In other words, the fiber analysis was conducted on a rock type that was clearly to be Shuksan greenschist based on appearance and therefore not likely to contain actinolite but it was tested anyway. Meanwhile, the rock which was identified as Shuksan greenschist in the site survey, and containing 23.5% actinolite, was not analyzed for asbestos fiber.

The methodology used are standard for geologists (i.e., desktop survey of USGS rock types, on-the-ground examination of potential for Shuksan greenschist, and asbestos fiber analysis) but the report falls short of answering the question relevant to a SEPA lead agency considering whether a proposed set of activities is significant or not, i.e., How much risk would be posed to the environment on site/off site by mining rock with 23.5% actinolite (i.e., asbestos) as a result of dust-producing activities like blasting, breaking up, and moving or transporting rock? If it could extend off site, how far and how might it spread? If it could affect the environment and surroundings, for how long? If it were to get released and contaminate water as well as air, could contamination be reversed? These are the type of questions a SEPA lead agency should be asking because it relates to the complexity and potential of the project's direct, indirect, and cumulative impacts. Further, the DNR is already clearly aware that the rock type the applicant is interested in is the Shuksan greenschist because of its potential value as jetty stone (as seen in permit documents). Jetties are important for infrastructure, but the process to acquire them should not put the health and safety of humans, animals, and fish at risk through contamination of air and water that cannot be reversed. What amount of asbestos fibers in parts per million is too much for public and environmental health? Why would a SEPA lead agency, aware of a potentially deadly health hazard associated with a proposal, not require deeper investigation or respond to public concern about it? Do you have any concerns for DNR regarding litigation risks?

Thank you for your attention to these concerns.
Respectfully,
Andrea L. Weiser, M.A. (Archaeologist/Paleoethnobotanist)