Skagit River Alliance Letter Opposing Kiewit Quarry Mine Special Use Permit
Nov. 4, 2020, midnight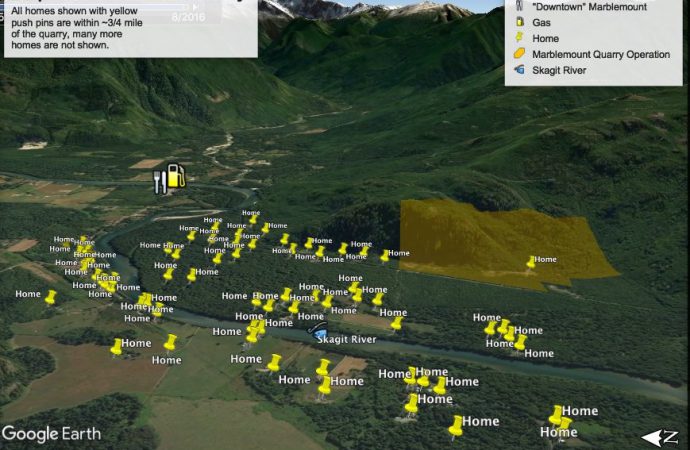 Skagit River Alliance
By web portal and hard copy
May 13, 2019
Skagit County Planning and Development Services
1800 Continental Place
Mount Vernon, WA 98273

RE: Kiewit Infrastructure Co. Applications for Mining Quarry - SEPA Checklist (PL19-0032),
Mining Special Use Permit (PL19-0033), Forest Practice Conversion Permit (PL19-0047), and
Grading Permit (BP19-0070)

Dear Skagit County Planning and Development Services:
Skagit River Alliance is a newly created non-profit corporation created to oppose the Kiewit
Marblemount Quarry Permit Application. More affirmatively we represent the values, concerns,
and overall sentiment of eastern or "upriver" Skagit County community members, particularly in
and around Marblemount, Rockport, and Concrete.

If approved the Marblemount quarry would have a significant adverse impact on the local
environment, particularly due to the local context. The absolute quantitative effects (the amount
of rock removed, the number of truck trips, quarry operations, rock crushing and blasting
impacts, etc.) would be large regardless of context. But, whereas a similar development in an
industrialized region might be considered less disruptive, the introduction of such immense
changes in activity, noise, and the landscape itself will be highly significant in what is now a
tranquil corner of a remote part of the County. It is clear to us and should be clear to the Director
of Skagit County's Department of Planning and Developmental Services that a quarry in
Marblemount would have significant adverse environmental and economic impacts and this
proposal requires impartial third party assessment through an Environmental Impact Statement
(EIS) to assess these impacts. Thus, the County must issue a Determination of Significance
(DS) and begin scoping the project's likely impacts as part of the EIS process. In addition, the
application describes a project that would impose impacts that cannot be mitigated to meet legal
requirements and performance standards for surrounding land use, and any quarrying activity
will not align with the values of surrounding community members (as in evidence of the large
volume of comments by community members submitted in opposition to the proposed quarry).

As explained below, the application for Special Use Permit PL 19-0033 requires an EIS, and
should also be denied.

1) The Proposal Requires an EIS
The SEPA Checklist shows that the proposal warrants a Determination of Significance (DS)
under the State Environmental Policy Act (SEPA) and an EIS before any of the permits for
mining, grading, or forestry can be approved. SEPA's basic purpose is to "require local
government agencies, including counties, to consider total environmental and ecological factors
to the fullest extent when taking 'major actions significantly affecting the quality of the
environment.'" Sisley v. San Juan County, 89 Wn.2d 78, 82, 569 P.2d 712 (1977) (citing RCW
43.21C.030(2)(c)). To determine whether an environmental impact statement will be required,
the government must perform a threshold determination that assesses whether: (1) a major
action has been proposed; (2) that will significantly affect the quality of the environment. Id.
Washington courts have stressed the importance of the initial threshold determination -- an
incorrect threshold determination, made in the absence of complete information, thwarts the
SEPA purpose to ensure that the full disclosure of environmental information informs the
government's decision-making process. Id. at 84.

The proposed rock mining quarry is a major action that will significantly affect the quality of the
environment. Id. at 83. "[A] governmental agency's approval of private projects by the granting
of permits constitutes an 'action' within the meaning of SEPA." Id. And the scope of the
proposal here, to mine up to 9.6 million cubic yards of rock across 120 acres of land, is a major
action. Id. That major action calls for substantial amounts of blasting, rock removal, and traffic
that will adversely affect the quality of the environment for our upper Skagit Valley residents and
visitors.

Consequently, we call on Skagit County to issue a DS and require an EIS, consistent with the
SEPA policy to "[a]ssure for all people of Washington safe, healthful, productive, and
aesthetically and culturally pleasing surroundings." RCW 43.21C.020(2)(b). The following
sections identify deficiencies in the Mining Special Use Permit and SEPA Checklist that can be
corrected with that EIS.
2) Critique of Mining Special Use Permit
Kiewit's current Special Use Permit application materials (PL 19-0033) are incomplete at best
and misleading at worst and do not meet the applicant's burden of proof required to
demonstrate the proposed activities will not create undue noise, vibration, heat, glare, and air
and water pollution, intrusions on privacy, and conflict with the health and safety of the
community and public as required by SCC 14.16.900 (1)(b)(v). The proposed mining is not
compatible with existing and planned land use nor does it comply with the Skagit County Code
as is required to be demonstrated in the application materials (SCC 14.16.900 (1)(b)(v)(A) and
(B)). This has already been enumerated by Loring Advising in the May 11, 2019 letter on behalf
of Skagit River Alliance for parcels P128574 and P45548 that have Secondary Forest - Natural
Resources Lands zoning outside of the mineral resource overlay (MRO).
3) Incompatible with Existing and Planned Land Use
As required by (SCC 14.16.900 (1)(b)(v)(A)) Kiewit has not demonstrated the proposed use is
compatible with existing and planned land use for the adjacent Rural Reserve zoning district
(RRv; SCC 14.16.320) because the application materials and related studies are incomplete. In
addition some preliminary research (outlined below) indicates that the impacts could not be
mitigated sufficiently to ensure compliance with regulations. The primary use in the RRv district
to the north and west are single family dwelling units, people's homes. There are ~30 homes
within 3/4 mile. The RRv district also includes permitted uses such as co-housing, family
daycare provider, home based business, and agriculture. In addition administrative special
uses can include bed and breakfasts, campgrounds, home based business, kennels, temporary
manufactured homes, parks, trails and trailheads, and others. Despite the inclusion of a mineral
resource overlay in this location we believe Skagit County is in error by allowing RRv zoning to
directly abut the MRO and allow residential development within the ¼ mile buffer assigned to
the MRO. A massive quarry in this location with its particular geographic setting is not
compatible with the existing and planned use of RRv.
Likewise for the parcels to the northwest and south that are zoned Public Open Space of
Regional/Statewide Importance (OSRSI; SCC 14.16.500); Kiewit has not demonstrated the
proposed use is compatible with existing and planned land use because the application
materials and related studies are incomplete. In addition we believe that the impacts could not
be mitigated sufficiently to ensure compliance with regulations and the intent of these lands.

We understand that the landowners' primary intent is to restore and preserve wildlife and fish
habitat (consistent with SCC 14.16.500(3)(d)). Nearby examples include parcel P45303,
O'Brien Riggs State Park and Illabot Creek Restoration Area (parcels P45561 and P45570,
downstream of the proposed quarry).

Directly across the Skagit River from the proposed quarry is an area zoned Master Planned
Resort (MPR) which includes several parcels owned by the Outzen Trust. This resort was
established for a wide range of recreational users to enjoy the natural features and amenities of
the area (SCC 14.20.010). The siting of a large scale quarry in such close proximity to facilities
meant for people to relax in a tranquil natural setting are at direct odds with the intent of such an
area. Again the applicant's materials fail to evaluate impacts to this special and historic resort
and we are dubious that the impacts could be mitigated sufficiently to ensure compliance with
regulations and the intent of these lands.
The Skagit River, along with its tributaries the Sauk, Suiattle and Cascade Rivers, were the first
rivers in Washington to be included in the National Wild and Scenic River System. The Kiewit
Marblemount quarry proposal is located in the overlapping corridors of three wild and scenic
water systems: the Skagit River, the Cascade River, and Illabot creek. This fact alone would
demand site specific evaluation through an environmental impact statement.
Skagit River Alliance stands in opposition to the quarry along with local area tribes that have
expressed that the proposed quarry would be incompatible with their treaty resources and
culturally important places. The Sauk-Suiattle, Swinomish and Upper Skagit Tribes have
submitted formal letters to this effect as has the Skagit River System Cooperative which
includes Sauk-Suiattle and Swinomish membership.

These current and potential uses reflect and rely on the special rural character, landscape, and
lifestyle of this area, which requires a high degree of tranquility, privacy, and exceptionally clean
air and water (surface and groundwater).
Undue Noise and Glare
The applicant contends that the quarry would not create undue noise that contravened the
limitation in SCC 14.16.900 (1)(b)(v)(C), however their study is incomplete and deficient in
several areas:

1. Washington State noise pollution regulations have requirements not only for long-term
ambient noise levels (Leq
) but also short-term intermittent noises (Lmax
; WAC
173-60-040). However, the Sound Analysis report contains no analysis or simulation of
4
Lmax noise levels. All of the simulation data presented (table 6-3 and 7-1) only discuss
Leq noise levels. As such, further analysis is required to determine if the proposed
mitigation plans are sufficient to comply with noise pollution regulations for short-term
intermittent sounds.

2. Page 14 of the Sound Analysis states, "With Level II mitigation in place, projected sound
levels during all proposed phases of operation are within 5 dBA or less of baseline
sound levels at the Rural-Residential Analysis Locations. As presented in Section 3.1 of
this Analysis, a sound-level increase of 4 to 5 dBA is near the threshold between an
imperceptible and a noticeable effect and therefore does not constitute a significant
noise impact." A community member who has obtained a degree in the field of audio
and acoustics and previously been professionally employed in that field, confidently
states that there is not sufficient evidence presented in the Sound Analysis report to
make statements like this. Analyzing sound levels without accounting for spectral
distribution may be adequate for demonstrating compliance with relevant noise pollution
laws and ordinances, but it is not sufficient methodology to make claims about whether
noises will be noticeable or perceptible. Sound masking and perceptibility of combined
sounds is closely tied to the difference in frequency between the combined sounds, so a
frequency-spectrum analysis of the combined sounds is required to make such claims.
The Sound Analysis should either be expanded to include such methodology and
evidence, or such statements lacking in evidence should be purged from the analysis to
avoid influencing the judgment of decision-makers without acoustical expertise to critique
these unfounded claims.

3. The reference sound levels reported in Table 5-1 on page 8 of the Sound Analysis are
obtained from "the BRC Acoustics database". The specifics are absent from this
document. For example, the Operations Proposal specifies three CAT 988 Front End
Loaders during ongoing operations. These are listed as 109 to 111 dBA by the
manufacturer under ISO 6395 testing procedures. The CAT D10 Dozer is 115 dBA - the
Sound Analysis uses 81 dBA as reference for the Dozer. Manufacturer's specs reference
specific conditions such as sound measurement at mid-gear for the CAT 773 60 Ton
Haul Truck. Not measured is the sound produced by heavy equipment climbing and
descending a 12.5% grade heavily loaded. It is doubtful that the CAT 773 is in mid-gear
traversing this grade. The sound produced from scraping, loading, splitting and other
stone manipulation is significant, but also not mentioned. The Sound Analysis specifies
nothing about the conditions of measurement, nor the assumptions made in calculations.

4. The Operations Proposal identifies 19 pieces of equipment for ongoing mining
operations, excluding equipment used for site preparation and road building. 12 are
heavy equipment off-road vehicles. There are additional sound producing equipment that
are stationary. Table 6-1 of the Sound Analysis identifies three modeling scenarios, of
which 02 and 03 are related to ongoing mining operations. The sound sources do not
match the equipment identified in the Operations Proposal. Though it is likely that many
sound sources are concurrent in practice, there is no indication of how many sound
sources are concurrent in the modeling. Though multiple sound sources are additive
using logarithms, it is also true that a 10 dB increase in sound is perceived as doubling.
5
So 90 dBA sounds twice as loud as 80 dBA. The impact on human and wildlife are
ignored in the analysis. The scenarios imply that a lot of equipment remains idle during
operations. There is no analysis of the noise echoing up and down and across the
valley. When DNR used explosives to create a fire break on B&W mountain, residents
10 miles down valley remember the moment of fright and concern upon hearing the
blasts, though it occurred years ago.

5. The Sound Analysis ignores the sound of hauling trucks on public roads, which it
acknowledges is regulated by WAC 173-62. The number and size of such large trucks
exposes residences and businesses along the route to unwanted and undue additional
noise. The Virginia Department of Transportation determined that one standard load
truck is equivalent to the noise produced by 28 cars at 55 mph. It is likely that oversized
trucks hauling 105,000 lbs or more of rock would create even more noise and vibration.

6. Effects on Bald Eagles on Skagit River and in area in winter: According to the US Forest
Service, in 2018, 111 eagles were sighted on one day of weekly counts along the river
reach between Marblemount and Rockport. in 2017 the count reached 117. The annual
Skagit River Eagle Festival occurs each January on a river that hosts the highest
migratory eagle population in the lower 48 states. The bald eagle continues to be
protected by the Bald and Golden Eagle Protection Act (16 U.S.C. 668c; 50 CFR 22.3).
The U.S. Fish and Wildlife Service defines "molest or disturb" among prohibited
activities. The application fails to address the impact of noise and vibrations from
explosions, drilling, rock splitting and other mining activities on this annual migration.
Noise and vibration sources range from 0.48 to 0.68 miles line of sight distance to trees
along the Skagit River where eagles congregate every year.

7. Effects on wildlife: Seattle City Light purchased their adjacent property to the proposed
quarry as "wildlife lands"with the intent to preserve ecosystem connectivity to balance
out loss of habitat in other industrial areas. Seattle City LIght, Washington Department of
Fish and Wildlife, and local residents are tracking several species in recovery or species
at risk including peregrine falcons, eagles, fishers, lynx, red fox, and wolves. Mature
trees in the proposed development area show potential for spotted owl habitat yet
potential effects to such habitat is not even considered in the quarry proposal or the
SEPA checklist, nor has a spotted owl survey been conducted. All five species of
anadromous salmon spawn in the Skagit River, downslope of the proposed quarry site.
Potential impacts of a mining operation to these recovery efforts are unknown and of
great interest to the Skagit Fisheries Enhancement Group who worked in partnership
with Skagit County on successful and award-winning restoration on Illabot Creek.

8. The Sound Analysis recommends noise mitigation via a 12 foot berm (Level I) or 20 foot
berm with restricted operation hours (Level II). The Mitigation Plan ignores Level II
mitigation and identifies Level I or delaying daytime operations by one hour - an option
that is not a stand alone measure recommended by the Sound Analysis. In other words,
the Mitigation Plan provides the option to ignore the findings of the Sound Analysis. It is
also unclear how a 12 foot or even a 20 foot berm will mitigate noise sources 600 or
more feet above the berm. Further, the hours of operation as included in the Special

Use Permit application do not reflect the mitigation recommendations in Mitigation Plan
or the Sound Analysis report.

9. Although the applicant mentions the possibility of night operations (which we strongly
oppose) they make no mention of lighting nor reducing glare and light pollution from the
site. On a ridge above the valley bottom, bright lights from moving vehicles and
stationary lighting would be quite difficult to mitigate.
These numerous concerns amply demonstrate the need for an EIS to properly study the noise
effects of the mining operation.
Undue Vibration
The applicant contends that the quarry would not create undue vibration that contravened the
limitation in SCC 14.16.900 (1)(b)(v)(C), however their study is incomplete and deficient in that
they do not consider the following:
1. Vibration from two large drill rigs drilling 5", 40' deep holes in solid bedrock.
2. Vibration from Komatsu 2000 front shovel handling extremely large rock (28 tons or
greater) at the top of the rock face, dropping them onto the bedrock, dropping them onto
the loading piles, and dropping them into the off- road dumptrucks
3. Vibration from large off-road and on-road hauling trucks.
4. Vibration from rockfall during blasting
5. Blasting within ¼ mile of current and future suitable northern spotted owl and marbled
murrelet habitat could result in "take" of these Threatened species and Critical Habitat as
they are protected by the Endangered Species Act of 1973 (particularly on parcels
P45307 and P45303). These species have particularly sensitive ears and the US Fish
and Wildlife Service has identified a ¼ mile buffer for blasting to arrive at a "may affect,
not likely to adversely affect" determination through Section 7 of the Endangered
Species Act.
These impacts must be studied in the EIS.
Undue Odor and Air Pollution
The applicant contends that the quarry would not create undue odors and air pollution that
contravened the limitation in SCC 14.16.900 (1)(b)(v)(C), however their study is incomplete and
deficient:

1. A quick informal survey of residents that live in close proximity of the proposed quarry
indicated that they find the smell of diesel exhaust and spent powder from blasting caps
offensive. Such smells would be common to nearby residents in the adjacent RRv
district when carried via daily afternoon winds from the south in the summer and during
times of an inversion at the valley bottom that would trap and concentrate exhaust and
odors in the local vicinity.

2. The Skagit County "Performance Standards" as listed in SCC 14.16.840 are silent on
odor and air pollution. However, there are applicable state and federal requirements for
air pollution that should be addressed.

3. The SEPA Checklist does not appear to identify or evaluate the carbon emissions
required to construct a new 60-foot-wide mining road, mine 9.6 million cubic yards of
rock, and transport rock nearly 300 miles to the installation site. See SEPA Checklist, at
9-10. Given the Department of Ecology's finding that transportation accounted for
42.5% of the state's greenhouse gas emissions in 2015, and the Washington
legislature's goal to reduce greenhouse gas emissions to 1990 levels by 2020, this
omission must be rectified.

4. Kiewit's Fugitive Dust Plan quotes environmental particulate regulations but gives no
information on the production of particulate matter resulting from blasting and or other
operations. They give wind data from the Marblemount Ranger Station but this valley
location is not representative of the operations site on the ridge especially if a large block
of timber is removed. How much fine particulate matter from blasting would not settle out
over the operations site but be carried by wind to the surrounding countryside and
residences? The composition of the dust produced is not addressed. Greenschist
commonly has serpentine and amphibole minerals which can be asbestiform, particularly
the mineral actinolite. The Shuksan Greenscist is known to have an "interlayering of
actinolite-bearing greenschist assemblages with blue amphibole-bearing rocks"
(Dungan, Vance, and Blanchard 1983). They intend to rely heavily on using trucked in
water to keep the dust down, but we doubt they can't abate it all. All the quarry blasting
videos we can find produce large amounts of dust. There is no mention of abatement for
that except to avoid blasting when winds are greater than 15 mph. Where these winds
would be measured is not mentioned.

The EIS should be used to evaluate the odors, exhaust, and greenhouse gas impacts and to
identify applicable government standards for air pollution.

Undue Water Pollution
The applicant contends that the quarry would not create undue water pollution that contravened
the limitation in SCC 14.16.900 (1)(b)(v)(C), however their study is incomplete and deficient:

1. The Skagit County "Performance Standards" as listed in SCC 14.16.840 are silent on
water pollution. However, there are applicable state and federal requirements for water
pollution that should be addressed. In addition we have the following concerns:
a. For Washington state, RCW 90.48.080 stipulates that discharge of polluting
matter in surface or underground waters of the state is prohibited.
b. We are concerned about pollution from fuel, oil, antifreeze, other chemical spills
from accidents, equipment leaks and failures, tank leaks and failures, fueling and
equipment maintenance failures, etc… all the things that can and do happen in a
large scale industrial operation. Except for mention of minimal mitigation
measures, no risk management for these hazards is addressed, particularly
during seismic events.
c. The location of the stormwater pollution prevention catchment ponds does not
make sense as the road and large rock piles would be situated between them

and upslope areas. There is no clear path for runoff to the ponds. Further,
except for high intensity or long duration rain events it is likely most runoff will
infiltrate before it reaches these ponds as is in evidence by the infiltration points
of Watercourses A and B. Runoff that will be polluted.

d. The Blasting Impacts Report for the proposed project indicates that leached
ammonia and nitrates could penetrate groundwater or be washed into waterways
from the project but then falsely goes on to conclude that there would have no
impacts on the Skagit River or other area water resources. Additionally, the
HydroGeo report states that the groundwater aquifer at the site is connected to
the Skagit River. These chemicals can leach into the aquifer and contaminate the
river. This report is incorrect and biased.

i. The "Assessment of Rock Blasting Impacts and Recommended
Practices" states if the best industry standards are used, losses of nitrates
and ammonia (ANFO Residues) would not be even measurable (page
15). This is difficult to accept according to sources cited below and
especially considering our wet climate (~80 inches of precipitation per
year). From this information it is clear there will be a significant amount of
blast residue which cannot be restrained from entering the groundwater or
steam flows. The detonation of ammonium nitrate-fuel oil (ANFO) is often
incomplete in a wet environment leaving behind toxic and water soluble
products. The use of more self-contained packaged ANFO/emulsion is
only acceptable in very dry conditions (Bailey et.al 2012). A major
drawback of ANFO is its hygroscopic nature and moisture content as low
as 5% can cause detonation failure (Bailey et.al 2013). Further, explosive
residue in cases in the form of unexploded material is detected even in
cases of complete detonation. Keller J.D.et.al(2002). It is important to
recognize any residue polluted water collected in sediment ponds cannot
be restrained from entering the aquifer. This is acknowledged in the
Hydrogeologic Site Assessment which states the groundwater within the
alluvium/outwash unconfined aquifer is hydrogocially connected to the
Skagit River (pages 8&9). HydroGeo Report it states that Watercourse B
has a shallow aquifer that slowly feeds into it, and that it occasionally
flows over the road. This could carry these chemicals offsite and into the
river during flood events. The cumulative effects of ammonia nitrate and
other toxins cannot be mitigated. This being the case the risk to the
watershed and Skagit River is too great and this permit should be denied.
Keller j.d. Explosive residue origin and distribution Forensic Science
Communications Vol. 4 No 2 (2002) Bailey B.L., Smith L.s., Rtacek C.J.,
Smith L., Sego D.C. (2013) Diavic Waste Rock Project Applied Chemistry
36, 256-270

e. The Assessment also states three potential but unconfirmed springs are located
within the project area. This would need to be confirmed as their proximity to
blasting, operations, hazmat storage, and undersized stockpile/waste rock areas

is important to identify ongoing mobilization and transport of pollutants that would
lead to aquifer recharge and downstream surface flows with contaminated water.
During recent past fall and winter storms with heavy rain, standing water has
been observed covering the old sand and gravel quarry site to the south and has
flowed over the Rockport-Cascade Road nearby. With most vegetation removed
from this site, flow would be even greater. Flooding would be a risk as well as
overflow of the sediment ponds.

f. The location of the stormwater pollution prevention catchment ponds does not
make sense as the road and large rock piles would be situated between them
and upslope areas. There is no clear path for runoff to the ponds. Further
except for high intensity or long duration rain events it is likely most runoff will
infiltrate before it reaches these ponds as is in evidence by the infiltration points
of Watercourses A and B. Runoff that will be polluted.

2. This area appears not to be designated a critical area for aquifer recharge. SRA
contends that it is and Skagit County needs to do an aquifer recharge areas site
assessment (SCC 14.24.330) and likely designate this area as an aquifer recharge
critical area.

3. As mentioned above the rock type desired for extraction by the applicant on this site,
contains actinolite, a asbestos mineral. Blasting and earthmoving/rock moving are
activities that create airborne dust and dust abatement typically involves wetting it down.
Spread of asbestos as airborne particulate dust or as a liquid would put water quality at
risk as well as human health. This would not align with Special Use Criteria G – i.e. "the
proposed use is not in conflict with the health and safety of the community." Skagit
County identifies naturally occurring asbestos as a geologic hazard. is needed in land
development and allowable operations to reduce the hazard. The proposed worksite is
steep, hazardous and unstable, and the asbestos content of the type of rock also
identifies the area as a geologic hazard. As a Skagit County critical area (SCC
14.24.400-430), a critical areas checklist for this site should consider movement of
asbestos particulate and waterborne asbestos that would be triggered by development in
addition to known visible site features. SRA contends that, due to these natural features,
this area is not suitable for development because of susceptibility to erosion, sliding, rock
fall and spread of asbestos to residences and the broader public and ecosystem through
the air and water.

4. The applicant does not address increased spills risk due to transport of liquid chemicals
(e.g. vehicle and blasting fuel, tool/machinery lubricant, etc.), an unstable County Road
road not designed for the load weights and frequency as proposed. In addition, spill
response would be complicated by pinch points in access and spill risk areas over and
next to water (i.e. the Skagit River).

5. Relatively small concentrations of ammonia in water are very detrimental to fish. ANFO
(see Appendix A for more information on ANFO) can cause deleterious environmental
effects in both detonated and undetonated states. In high-moisture settings, detonation
of ANFO can be inefficient, leading to incomplete combustion and toxic residuals. The
undetonated ammonium nitrate (AN) is highly water-soluble and can result in releases of
nitrate, nitrite and ammonia into the environment, including both surface water and
groundwater. Dissolution of AN is a common issue affecting the detonation performance
of ANFO and, depending on site-specific conditions, can lead to environmental issues
from the releases of nitric oxide (NO), nitrogen dioxide (NO2), carbon monoxide (CO)
and methane (CH4) due to poorly detonated ANFO. According to some literature
sources, this dissolution can happen very quickly, as 25% of nitrates can leach from the
explosives after 6 minutes of exposure to moisture, and 50% after a one-hour exposure.
Following the loss of 25% of nitrates, the ANFO will not be able to properly detonate.

6. Page 8 of the Hydrogeologic Site Assessment states, "The Shuksan Greenschist
bedrock that occupies the eastern portion of the Project Area is hypothesized to
essentially be an aquitard that restricts groundwater movement. The Shuksan
Greenschist in the area is not extensively fractured, leading the analysis to conclude that
hydraulic conductivity for this groundwater system is low and de minimis for the overall
recharge and groundwater flow." We have concerns about drawing conclusions from
this report since the bedrock to the east is "hypothesized" to be an aquitard admits that
this is an untested assumption. It is also an untested assumption that the Shuksan
Greenschist is not extensively fractured. Or at least fractured enough to harbor a
significant aquifer of its own. More detailed structural characterization of the bedrock
structure here is important to understand where contaminated surface water would go
besides where it is assumed it would go for stormwater pollution prevention. Also, what
unforseen impacts could this lead to? Later the report states, " The Shuksan
Greenschist within the Project Area has a relatively small amount of fracturing as
observed in the field. This implies that it has low hydraulic conductivity and was
estimated at 0.022 ft/day for this site." What areas were observed in the field that leads
to this conclusion? How was the 0.022 ft/day arrived at?

7. Page 8 of the Hydrogeologic Site Assessment states, "Some of the Ecology water well
report locations were found to be somewhat inaccurate and site locations were
estimated using the best available information at the time of the report." We believe
these locations should be confirmed for best data analysis. In addition a number of
residential wells are not shown within a mile of the project area. Likely a search of the
Skagit County Assessor's property records would identify them. This would place other
wells in the alluvial aquifer within 1000 feet from the project area.

8. Finally there are problems with Figures 7 and 8 in the Hydrogeologic Site Assessment.
Figure 7 should show the same area that Figure 8 does. Figure 8 has no explanation of
what the WPA red circles are and what they have to do with the analysis.
These concerns should be evaluated in the EIS.

Intrusions on Privacy
The applicant contends that the quarry operations would not generate intrusions on privacy of
surrounding uses as required to be demonstrated by (SCC 14.16.900 (1)(b)(v)(D)). However
their response is incomplete and deficient. Much of the quarry operation would be elevated
above the trees and any constructed berms on the north boundary. The quarry would abut
Parcel P45305 and is in proximity to several other homes (particularly P45271) that are in the
Rural Reserve (RRv) zone, the presence of workers and heavy mining equipment up on the
ridge and hillslope working the quarry would generate visual and audible intrusions of privacy to
these and other nearby residential properties.

The EIS can be used to evaluate how the mining of rock and removal of a hillside several
hundred feet above ground level will intrude on neighbors' privacy.
Adverse Impacts on Health, Safety, and Welfare
The applicant contends that the quarry operations would not create potential adverse effects on
the general public health, safety, and welfare as required to be demonstrated by (SCC
14.16.900 (1)(b)(v)(E)) and would not conflict with the health and safety of the community (G).
However, these important factors have not been considered:

1. Given the rock is drilled and blasted into fine dust, mobilization and transport of fine
asbestos crystals likely above background would be a significant impact on workers'
onsite and residents' and animals' health downwind. There should be an analysis to
identify risk and hazards from this hazardous fugitive dust that would be released into
the community. Even with best practices we question that all dust will be able to be
abated on the site. Exposure to asbestos can cause health problems such as
asbestosis, lung cancer, and mesothelioma and according to the Environmental
Protection Agency, no amount of visible dust is safe to inhale.

2. The surface mining act (Chapter 78.44 RCW, Chapter 332-18 WAC) also addresses
surface to ground water quality which would be at increased risk from this type of
development, in particular related to potential residues and chemical contaminants
spread through blasting as well as naturally occurring asbestos dust putting water quality
at risk.

3. The applicant does not address auditory or non-auditory health effects on workers or
nearby residents from noise. A starting reference can be found here:
https://www.ncbi.nlm.nih.gov/pmc/articles/PMC3988259/

4. Potential for blasting and vibration to unnaturally loosen and knock rocks from cliffs that
are part of the same rock formation that would be quarried down onto residential
properties below (particularly Parcels P45305, P45271, P45269, P45267, P45250, and
P45265). The geohazards report does not address anything outside of the project area,
however homes below are clearly at risk.

5. We don't expect that every blast will go perfectly. There is no discussion of a margin of
safety in case blasting mistakes to send fly rock onto Rockport Cascade Road and
nearby residential properties.

6. There are several families that live within 3/4 mile of the quarry, including children aged
2-12. In addition there are two nannies that provide daycare for these and other children
in the community. We have read about the negative impacts that loud and persistent
noise can have on the development of children and concerned about this for our
neighborhood children. Then there is the practical issue of getting a baby to nap with
unpredictable blasting and banging nearby. One child in the neighborhood has Down's
syndrome who is stimulus/noise sensitive, has airway/breathing issues, and a heart
condition.

7. Many of the local residents within ¾ mile of the proposed quarry have chosen to retire
here, are elderly, and have health issues that would be exacerbated by the noise, air,
and water pollution.

These issues should be addressed in the EIS.
Thank you for your attention to these important issues.

Sincerely,
Robert A.S. Burrows
President
Skagit River Alliance
PO Box 3
Marblemount, WA 98267